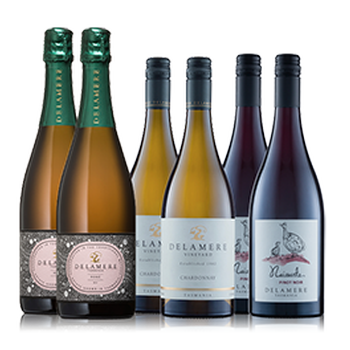 Because two is better than one…
This pack contains:
2 x Non Vintage Sparkling Rosé
2 x Estate Chardonnay 2019
2 x Naissante Pinot Noir 2018
Non Vintage Sparkling Rosé
Showing true mature Sparkling Rosé characters, it has a pale salmon colour and an aroma of fresh strawberry and musk, complexed by hints of lanolin and toast. But there is an additional layer of complexity from the bottle-aged reserve in this delicious 2016 blend.
A perfect match for freshly shaved prosciutto, figs and Parmesan. Soft white cheeses, oysters, hot smoked salmon or a roast capsicum salad would all be fine accompaniments.
Estate Chardonnay 2019
Opening with pristine citrus, floral and stone fruit notes, this wine evolves with delicate shades of vanilla, almond and crème brûlée. The key to this wine is its ability to balance its taut acidity and judicious use of oak and the savoury lees influence to create a complex and interesting wine that will age gracefully over the next 8-10 years.
Roast chicken with truffle butter, wild mushroom risotto with shaved pecorino, rabbit ravioli, leek and potato veloute.
Naissante Pinot Noir 2018
Rounded and juicy showing ripe cherry and strawberry characteristics. A subtle earthiness followed through with notes of sweet spice and smoke, coming together to create a complex and very drinkable wine.
The Naissante Pinot Noir is the perfect match to duck cassoulet with sweet spice!