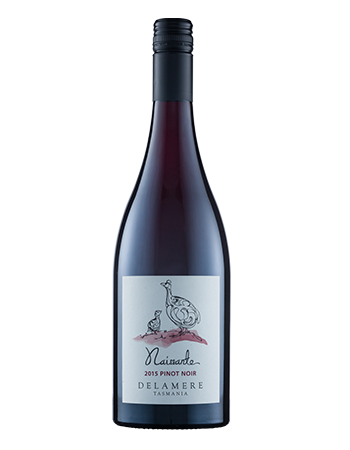 Vintage Conditions
Wet windy conditions through the preceding winter and early spring lead to lower than average crops in 2017. A cool dry summer extended the growing season, with above average temperatures in autumn providing ideal ripening. The wines resulting from this unique season are elegant and gentle, with lovely fragrance and finely balanced tannins. The elevated natural acidity across all styles and varieties gives wines from this a freshness that makes them delicious now, but will also see them live for many years to come.
Winemaking
The fruit for the 2017 Pinot Noir is sourced from specific growers around the Tamar Valley and released under the side-project label Naissante.
Naissante was born from the opportunity to work with a number of interesting, high-quality vineyards around Tasmania
Made using the same approach as the Delamere Pinot Noir, the wine sees hand harvesting, wild yeast fermentation, 30% whole bunch inclusion, hand plunging and matured in French barriques.
Tasting Notes
Ripe and juicy showing ripe cherry and red fruits with rounded tannins. A hint of earthiness combines subtly with sweet spice to create a complex and deliciously drinkable wine.
Food matches
The Naissante Pinot Noir is the perfect match to duck cassoulet with sweet spice!