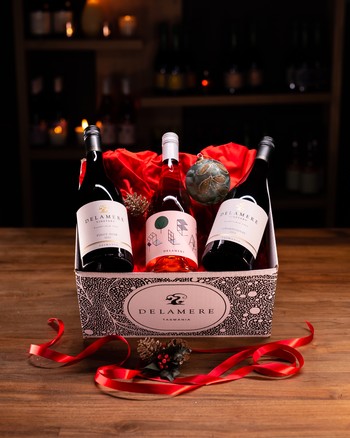 Inside this charming gift pack, you'll find three exceptional wines, each cherished for their unique qualities and exceptional taste:
2022 Delamere Estate Chardonnay
The 2022 Delamere Estate Chardonnay is a true expression of the estate's winemaking expertise. This Chardonnay displays a radiant golden hue and a bouquet of ripe orchard fruits, citrus, and subtle hints of vanilla. On the palate, it offers a harmonious blend of fruit and oak, creating a wine that is both refreshing and refined.
2022 Delamere Estate Pinot Noir
Delamere's 2022 Estate Pinot Noir is a celebration of this iconic cool-climate grape. With its enticing ruby color, this Pinot Noir exudes aromas of red berries, violets, and a touch of spice. The palate showcases delicate red fruit flavors and a velvety texture, making it a perfect companion for festive meals.
2022 Flyleaf Rosé
The 2022 Flyleaf Rosé is a delightful and vibrant wine that captures the essence of summer in a glass. Its pale, salmon-pink hue is inviting, and it boasts aromas of strawberries and rose petals. This dry Rosé is a refreshing and crisp option that brings a touch of elegance to any occasion.
Each bottle is thoughtfully presented in festive packaging that embodies the holiday spirit, making it an ideal gift for friends, family, or colleagues. Whether you're sharing these delightful wines with loved ones or enjoying them yourself during the festive season, the Delamere Christmas Mixed 3-Pack is a symbol of togetherness and celebration.