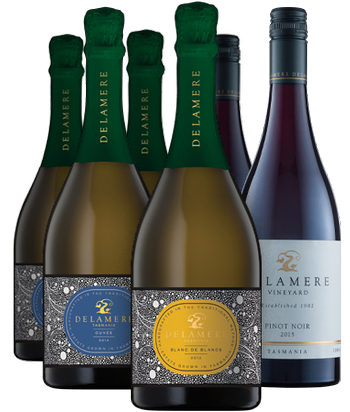 The 2015 Delamere Vintage Cuvée begins with a gentle whole bunch pressing of the fruit and is blended whilst still juice. The 2015 Cuvée is an elegant wine representing some excellent characteristics of the vintage. This year allowed us to use a large proportion of solids during fermentation to give extra depth and complexity. Our sparkling wines are produced traditionally with the 2015 spending four years on lees before release.
Racy and complex; this wine opens with crisp citrus notes and develops through the palate with stone fruits and a fine line of minerality. A complex and lingering finish with delicate rose florals on the nose.
The 2013 Delamere Blanc de Blanc grapes were whole bunch pressed, wild fermented followed by full malo and tiraging in October 2013. Six years aging on lees and a low dosage of less than 2 grams allows the voluptuous flavours of the fruit to shine through. All our sparkling wines are made in the traditional method with the Blanc de Blanc seeing a minimum of seven years total maturation age. A stunningly sophisticated sparkling wine with apple, lemon and notes of baking spices that flow into an extended rich and complex finish. This wine epitomises the benefits of aging on lees when working with premium cool climate Tasmanian Chardonnay.
The 2019 Delamere Pinot Noir has a beautiful garnet red colour. The aroma of early summer cherries and violets has a seductive complexity, with leafy hints, and sweet spices of nutmeg and star anise. The palate has a long elegant sweetness which is framed perfectly by firm, mouth-coating tannins. The lasting, flinty acidity finished the wine beautifully.