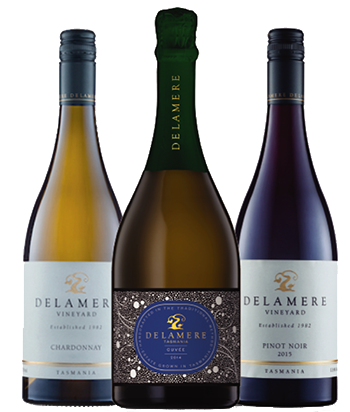 Give the gift of Tasmanian wine with this three pack of Chardonnay, Pinot Noir and our Vintage Cuvée.
This pack contains:
1 x Vintage Cuvée
1 x Delamere Estate Chardonnay
1 x Delamere Estate Pinot Noir
Another classic Vintage Cuvée for Delamere
Gentle whole bunch pressing of the fruit and blended whilst still juice, the 2016 Cuvée is an elegant wine representing some excellent characteristics of the vintage. This year allowed us to use a large proportion of solids during fermentation to give extra depth and complexity. Our sparkling wines are produced traditionally with the 2016 spending three years on lees before release.
(64% Chardonnay 36% Pinot Noir ) Racy and complex; this wine opens with crisp citrus notes and develops through the palate with stone fruits and a fine line of minerality. A complex and lingering finish with delicate savoury and toasted notes on the nose.
Delamere Estate Chardonnay
Every aspect of making this wine seeks to allow our unique vineyard characteristics to shine through, developing a complexity and texture that truly cool climate chardonnay fruit can carry so well. Carefully hand harvested from Delamere's oldest vines in the cool of the morning, the fruit is pressed directly into Burgundian coopered French oak and allowed to undergo natural wild fermentation. Partial malolactic fermentation and 10 months of lees stirring are an integral part of crafting this wine.
Opening with pristine citrus, floral and stone fruit notes, this wine evolves with delicate shades of vanilla, almond and crème brûlée. The key to this wine is its ability to balance its taut acidity and judicious use of oak and the savoury lees influence to create a complex and interesting wine that will age gracefully over the next 8-10 years.
Delamere Estate Pinot Noir
The Pinot Noir was hand harvested from over 30-year-old vines on the Delamere property. In 2019, we included roughly 30% whole bunches in most of the Delamere Pinot parcels, with each undergoing fermentation with wild yeast in open top vessels. The wine was pressed off after two to three weeks and filled to Burgundian oak to mature. A rich and full mouth-feel results from gentle handling and spending time on lees.
The 2019 Delamere Pinot Noir has a beautiful garnet red colour. The aroma of early summer cherries and violets has a seductive complexity, with leafy hints, and sweet spices of nutmeg and star anise. The palate has a long elegant sweetness which is framed perfectly by firm, mouth-coating tannins. The lasting, flinty acidity finished the wine beautifully.