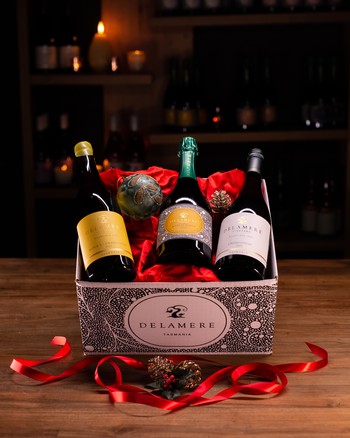 Presenting the Halliday Gold Medal Wines Christmas Gift Pack from Delamere Vineyards, a truly exceptional collection that celebrates the pinnacle of winemaking excellence. Wine making royalty Fran Austin and Shane Holloway are known for their commitment to producing outstanding cool-climate wines, this curated selection is a true testament to the artistry and dedication of the Delamere team.
Inside this limited edition gift pack, you'll discover three exquisite wines, each adorned with prestigious Halliday Gold Medals, showcasing the very best of Delamere's vineyard mastery and winemaking finesse:
2022 Delamere Estate Chardonnay- 96 Points
A jewel of the Delamere portfolio, this Chardonnay is a triumph of the 2022 vintage. With its brilliant gold hue, it exudes a complex tapestry of aromas and flavors. Expect to be enchanted by notes of ripe stone fruits, vanilla, and a hint of toasty oak. The palate is rich, yet beautifully balanced, with a long, luxurious finish that lingers in the memory.
Delamere 2021 Block 3 Chardonnay- 97 Points
A testament to the terroir and artistry that Delamere is celebrated for, the Block 3 Chardonnay from the outstanding 2021 vintage is a showcase of purity and elegance. The wine reveals a pristine minerality, interwoven with flavors of white peach, citrus zest, and a subtle hint of butterscotch. It's a wine that captures the essence of the region in every sip.
Delamere 2016 Vintage Blanc de Blanc - 96 Points
This exceptional Blanc de Blanc, aged to perfection, is a treasure of the Delamere cellars. Winner of a Gold Medal in the Halliday awards, it's the epitome of Australian sparkling wine. With its fine and persistent bubbles, this vintage Blanc de Blanc offers layers of citrus, green apple, and toasty brioche. It's a wine that marks special moments and milestones with grace.