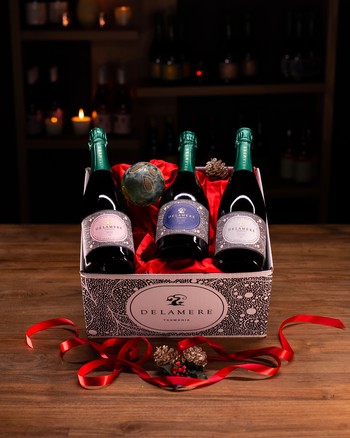 Introducing the Delamere Sparkling Wines Christmas Gift Pack, a luxurious and enchanting way to celebrate the festive season with effervescence and elegance. This carefully curated collection is designed to delight wine enthusiasts and connoisseurs, making it the perfect present for those who appreciate the finer things in life.
Inside this exquisite gift pack, you'll find a trio of exceptional sparkling wines from Delamere Vineyards, renowned for their commitment to crafting superb cool-climate wines. Each bottle within the collection is a testament to their dedication and expertise, making it a memorable gift for friends, family, or colleagues:
1 x Delamere NV Cuvee
This flagship sparkling wine is a harmonious blend of Chardonnay and Pinot Noir, exuding a delicate balance of fruity aromas and refreshing acidity. With notes of green apple, citrus, and a subtle hint of toasty brioche, it's a celebration in every sip.
1 x Delamere 2017 Vintage Cuvee
Crafted from the finest hand-picked grapes, this Vintage Cuvée is a testament to the purity and precision of cool-climate winemaking. It boasts a radiant golden hue, with flavors of ripe stone fruits, hazelnuts, and a lively, persistent mousse.
1 x Delamere NV Rosé
The Delamere Rosé is a delightful and vivacious wine, showcasing the captivating allure of Pinot Noir. Its striking salmon-pink color and the delicate dance of red berry, raspberry, and floral notes create a wine that is as visually stunning as it is palate-pleasing.