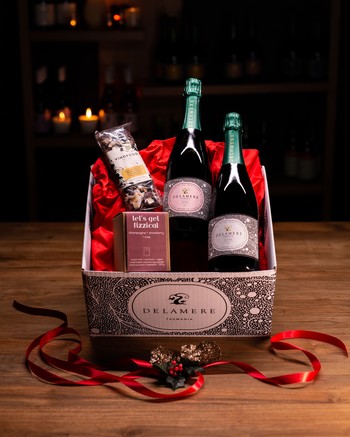 This gift pack is a delightful ensemble designed to bring sparkle, scents, and sweetness to your festivities. Whether you're gifting it or savoring it with loved ones, it's a gesture that embodies the magic of the season.
Inside this festive treasure trove, you'll discover two exceptional sparkling wines from Delamere Vineyards: our renowned Delamere Non-Vintage Rosé and the exquisite Delamere Non-Vintage Cuvée. Each bottle is a testament to our commitment to crafting outstanding cool-climate fizz. 🌟🥂
But that's not all! We've added a touch of magic to your celebrations with the "Let's Get Fizzical" Candle from Tasmania's very own Everwood Candle Co. This delightful candle encapsulates the scents of Champagne, strawberries, and roses, creating an atmosphere that's perfect for toasting and merriment.
And to satisfy your sweet tooth, we've included a generous portion of Vinofood's Rocky Road, infused with spiced wine and coconut. It's the perfect pairing to complement the bubbly and elevate your holiday snacking experience.
🌲 What's Inside:
1 Bottle of Delamere Non-Vintage Rosé
1 Bottle of Delamere Non-Vintage Cuvée
1 x 210g "Let's Get Fizzical" Candle from Everwood Candle Co.
1 x 220g Vinofood Rocky Road with Spiced Wine and Coconut