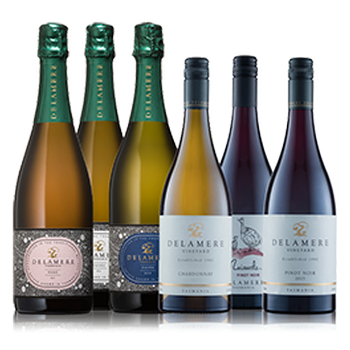 Something for everyone!
This pack contains:
1 x Non Vintage Sparkling Rosé
1 x Non Vintage Cuvée
1 x Vintage Cuvée 2016
1 x Estate Chardonnay 2019
1 x Naissante Pinot Noir 2018
1 x Estate Pinot Noir 2019
Non Vintage Sparkling Rosé
Showing true mature Sparkling Rosé characters, it has a pale salmon colour and an aroma of fresh strawberry and musk, complexed by hints of lanolin and toast. But there is an additional layer of complexity from the bottle-aged reserve in this delicious 2016 blend.
A perfect match for freshly shaved prosciutto, figs and Parmesan. Soft white cheeses, oysters, hot smoked salmon or a roast capsicum salad would all be fine accompaniments.
Non Vintage Cuvée
This wine showcases many of the elements that make a non-vintage sparkling wine so appealing. The maturity of the older wine brings a richness and depth, which combines beautifully with the fresh apple, citrus and stone fruit flavours of the younger wines. The Cuvée NV has flavours of fresh bread, nuts and leatherwood honey and a lingering and complex finish. Too good to save just for special occasions!
Sparkling wine is so much more than a wine for a toast or a party. Pair this wine with Tasmanian cheeses, marinated oysters, lightly truffled pasta or garlic and herb mushrooms on brioche.
Vintage Cuvée 2016
White flowers, lemon blossom and lovely biscuity autolysis presage this wine's opulence. Structural and balanced with fine tannins, the slightly higher dosage of 3g/l vibrantly delivers a palate of sherbet, lemon curd and refined minerality. A wine that will develop brilliantly under cork.
In its youth, this wine is served best with a selection of fresh Tasmanian Seafood. With age the Cuvee is best accompanied with Peking Duck, spatchcock or poached quail eggs.
Estate Chardonnay 2019
Opening with pristine citrus, floral and stone fruit notes, this wine evolves with delicate shades of vanilla, almond and crème brûlée. The key to this wine is its ability to balance its taut acidity and judicious use of oak and the savoury lees influence to create a complex and interesting wine that will age gracefully over the next 8-10 years.
Roast chicken with truffle butter, wild mushroom risotto with shaved pecorino, rabbit ravioli, leek and potato veloute.
Naissante Pinot Noir 2018
Rounded and juicy showing ripe cherry and strawberry characteristics. A subtle earthiness followed through with notes of sweet spice and smoke, coming together to create a complex and very drinkable wine.
The Naissante Pinot Noir is the perfect match to duck cassoulet with sweet spice!
Estate Pinot Noir 2019
The 2019 Delamere Estate Pinot Noir has a beautiful garnet red colour. The aroma of early summer cherries and violets has a seductive complexity, with leafy hints, and sweet spices of nutmeg and star anise. The palate has a long elegant sweetness which is framed perfectly by firm, mouth-coating tannins. The lasting, flinty acidity finished the wine beautifully.
Slow roasted rack of Lamb, Hare Royale or Coq au vin braised with a few drops of the Pinot Noir would be the perfect accompaniment.