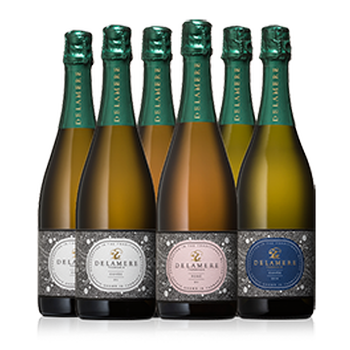 A special Easter 2022 pack, featuring some of Delamere's favourite Sparkling wines:
NON VINTAGE CUVÉE

This wine showcases many of the elements that make a non-vintage sparkling wine so appealing. The maturity of the older wine brings a richness and depth, which combines beautifully with the fresh apple, citrus and stone fruit flavours of the younger wines. The Cuvée NV has flavours of fresh bread, nuts and leatherwood honey and a lingering and complex finish. Too good to save just for special occasions!

NON VINTAGE SPARKLING ROSÉ

Showing true mature Sparkling Rosé characters, it has a pale salmon colour and an aroma of fresh strawberry and musk, complexed by hints of lanolin and toast. But there is an additional layer of complexity from the bottle-aged reserve in this delicious 2016 blend.

2016 VINTAGE CUVÉE

White flowers, lemon blossom and lovely biscuity autolysis presage this wine's opulence. Structural and balanced with fine tannins, the slightly higher dosage of 3g/l vibrantly delivers a palate of sherbet, lemon curd and refined minerality. A wine that will develop brilliantly under cork.