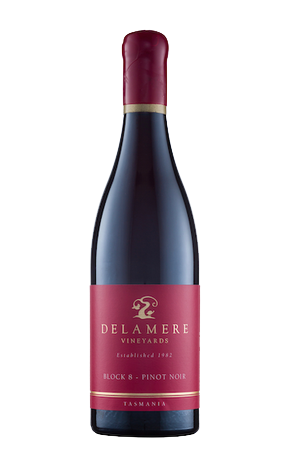 Vintage Conditions
2013 was something of a rollercoaster with some very warm, dry days and rain before vintage but this all lead to some intense flavours in the fruit and high levels of complexity. We received a healthy yield from our vineyard in 2013, the older vines coping very well with the temperatures and water availability.
Winemaking
Selected from one the oldest block of Pinot and Chardonnay on the Delamere Vineyard Site: Block 8, now over 32 years old, and the vine-age naturally limits the crop produced, leading to superior depth of flavour in the fruit. Fruit hand-picked is delivered directly to the winery where it is immediately destemmed to open top stainless steel fermented. 30% whole bunches were included in 2013, a warmer year, to increase flavour complexity and build firmer tannins The fruit is soaked at ambient temperature (15 degrees celcius) for 5 days before a natural fermentation commences. Gentle hand plunging is performed every 12 hours for gentle tannin extraction, and the wine was pressed out after 14 days. The wine was transfer to 2 of our best quality French oak, a new barrel and one 1-year old, where the wine matured for 10 months before bottling.
Tasting Notes
The delicate but highly complex aroma of this wine tells the story of the unique quality of the Block 8 site and age of the vines. Lift strawberry and cherry fruits flavours, with earth forest floor and hints of star anise spice. The palate is taut with firm sinewy tannins, with a complexity and length of flavour that is evidence of the 20 year aging potential of this wine.
Food matches
Seared venison, baked field mushrooms, rare rib of beef and a rump of lamb would be the perfect accompaniment.