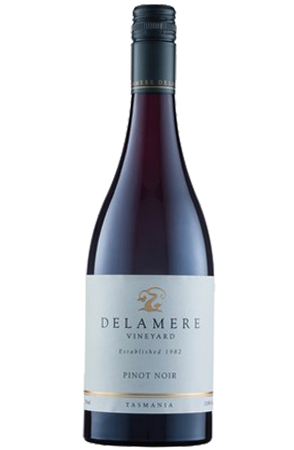 Vintage Conditions
The 2019 season here at Delamere will go down on record as so close to perfection it will be hard to beat. Overall it was Tasmania's second warmest season on record (an advantage straight out of the blocks in a cold, marginal-climate wine region like Pipers River!). In contrast to record warm temperatures in December and January, February saw a cool change. This allowed fantastic retention of acidity in the fruit. We had below average rainfall throughout the season, which meant disease pressure was non-existent, allowing us to take our time as the fruit ripened, and harvest only as it reached perfection. Crop levels were just below forecast giving us excellent depth of flavour. Coupled with near-perfect balance and racy acidity, a winemaker couldn't ask for better material. Making wines from this year's fruit has been an absolute privilege.
Winemaking
The Pinot Noir was hand harvested from over 30-year-old vines on the Delamere property. In 2019, we included roughly 30% whole bunches in most of the Delamere Pinot parcels, with each undergoing fermentation with wild yeast in open top vessels. The wine was pressed off after two to three weeks and filled to Burgundian oak to mature. A rich and full mouth-feel results from gentle handling and spending time on lees.
Tasting Notes
The 2019 Delamere Pinot Noir has a beautiful garnet red colour. The aroma of early summer cherries and violets has a seductive complexity, with leafy hints, and sweet spices of nutmeg and star anise. The palate has a long elegant sweetness which is framed perfectly by firm, mouth-coating tannins. The lasting, flinty acidity finished the wine beautifully.
Food matches
Slow roasted rack of Lamb, Hare Royale or Coq au vin braised with a few drops of the Pinot Noir would be the perfect accompaniment.