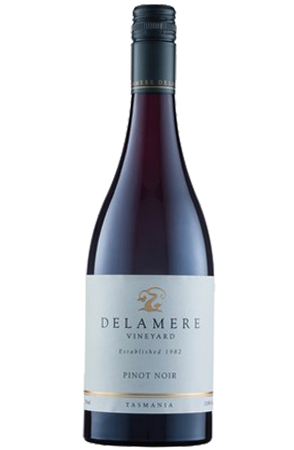 With every new vintage we are finding the demand for our wine outstripping supply.
Our 2022 Vintage is currently only available through our club, via the Winemaker's Selection mixed pack.
Current active club members will receive our 2022 Estate Pinot Noir in the next shipment.
2022 Delamere Pinot Noir
VINTAGE CONDITIONS
Spring of 2021, the commencement of the 2022 growing season, was one of the wettest on record for Tasmania. Temperatures were slightly warmer than average but were still the coolest we'd experienced since 2016. So, although the data suggested a warm start, a later than normal budburst suggested potential for a late year to most of us. The new year ushered in a change, with conditions turning dry and warm. Ripening raced ahead with the glossy canopies from the early season rainfall, and fruit flavours developed well. The final wines have full ripe flavours, with zest fresh acidity. Moderate crop levels overall have delivered wine of excellent depth and intensity.
WINEMAKING
The Pinot Noir was hand harvested from blocks on the Delamere vineyard aged from 20-40 years old. In 2022, we included roughly 30% whole bunches in most of the Delamere Pinot ferments, with each undergoing fermentation with yeast strain RC212 in open top vessels. The wine was pressed off after two to three weeks and filled to Burgundian oak to mature. The 2022 blend is predominantly from the 2002 planting, with a small amount (8%) of our oldest block, blended in.
TASTING NOTES
An intriguing fragrant aroma of wild strawberries, cherries, ripe raspberries and violets, with complex notes of earth and lightly charred sweet spice. The palate shows delicate juicy red fruits, framed by firm mouth-coating tannins. The wine travels across the palate with precision and tension. Minerally acidity gives great length to the wine with a lingering impression of violets, toasted spice and chinotto. This is a delicate and ethereal wine, which is tightly wound now, and will unfurl over the next few years to reveal a magnificent example of this elegant and complex variety.