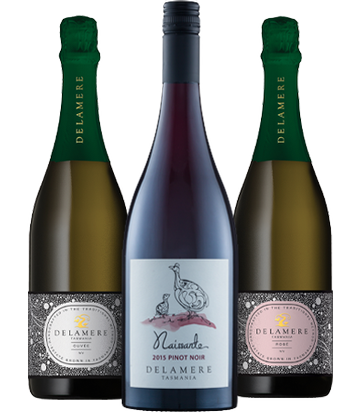 The NV Rosé is 100% hand harvested Pinot Noir from our vineyard and made in the traditional method with around two years lees time. This wine is a 2016 base with 21% reserve over blended. The reserve component is 2014 parcel that was aged in bottle under low gas pressure as a trial. The purity of the Pinot Noir fruit, crisp acidity and notes of maturity are the goal when blending this wine.
The NV Cuvée showcases many of the elements that make a non-vintage sparkling wine so appealing. The maturity of the older wine brings a richness and depth, which combines beautifully with the fresh apple, citrus and stone fruit flavours of the younger wines. It has flavours of fresh bread, nuts and leatherwood honey and a lingering and complex finish. Too good to save just for special occasions!
The 2018 Pinot Noir is fruit sourced from specific growers around the Tamar Valley and released under the side-project label Naissante. It was born from the opportunity to work with a number of interesting, high-quality vineyards around the region. Made using the same approach as the Delamere Pinot Noir, the wine sees hand harvesting, wild yeast fermentation, 30% whole bunch inclusion, hand plunging and matured in French barriques.