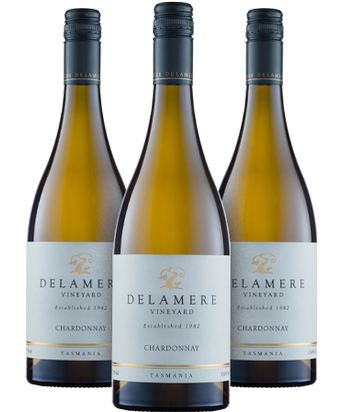 In recognition of International Chardonnay Day on May 21 we have delved into our back catalogue to offer three vintages of Delamere. Cool climate chardonnay has great tenacity in the cellar and this is your chance to taste Delamere chardonnay with medium and long term cellaring alongside our current release.
1 x 2011 Estate Chardonnay
1 x 2015 Estate Chardonnay
1 x 2018 Estate Chardonnay
Vintage Conditions
The 2011 season was notoriously challenging in Tasmania with high rainfall and warm weather leading to high risk of disease. However, where fastidious vineyard management was applied wonderful wines have resulted due to low crop levels. Cropping levels in 2011 were 6 tonnes/ha. The chardonnay is Penfolds 58 and I10V1 clones.
The 2015 Vintage tested us, and once again we prevailed. To begin a warmer than average spring produced early bud burst. Thankfully flowering conditions were perfect. Then the fun began! January saw a dramatic drop in temperature only to rise again in February then rain in March. Our fruit hung on to receive three weeks of lovely cool and sunny weather into April. Another classic vintage for Delamere.
The 2018 vintage was slow off the mark. Below average temperatures in July, August and September resulted in a late bud burst leaving us wondering if we were facing a long-drawn-out vintage. However things started to heat up from October onward, delivering above average spring and early summer temperatures resulting in one of the earliest harvests we have seen at Delamere. These unusual conditions produced solid crop levels with gorgeous flavour intensity, coupled with racy acidity. Flavour ripeness came on quickly so it was all backs to the grindstone in a race against time as a compressed vintage unfolded before us. We are pleased to say that our hard work and long nights prevailed and we emerged out the other side of vintage spent but fulfilled, and above all delighted with our 2018 wines.
Wine Making
Consistency is an integral element of wine making at Delamere. Every aspect of making these wines has sought to allow our unique vineyard characteristics to shine through, developing complexity and texture that truly cool climate chardonnay fruit can carry so well. Carefully hand harvested from Delamere's oldest vines in the cool of the morning, the fruit is pressed directly into Burgundian coopered French oak and allowed to undergo natural wild fermentation. Partial malolactic fermentation and months of lees stirring are an important part of crafting the wines.
Tasting Notes (at time of release)
The 2011 is every bit as good as previous vintages and with bottle development will become an outstanding chardonnay. The wine is taut and elegant now but already shows signs of the texture and complexity that will develop over the coming months. Displaying citrus and notes of hazelnut on the nose. An elegant, creamy palate with fresh quince and white nectarine characters, along with a lemon acidity giving great length.
The 2015 opens with elegant citrus blossom, hints of delicate stone fruit and finishing with a delicate cream of vanilla bean finish. The French oak influence has created a complex and interesting wine that will age gracefully over the next 8-10 years
The 2018 is reminiscent of the '15, stone fruit and floral citrus, classic Delamere chardonnay qualities. The key to this wine is its ability to balance the taut acidity, white nectarine and citrus fruits, judicious use of oak and the savoury lees influence to create a complex and interesting wine that will reward medium to long term cellaring.