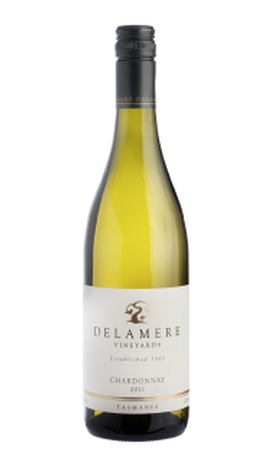 2011 DELAMERE CHARDONNAY
Every aspect of making this wine seeks to allow our unique vineyard characteristics
to shine through, developing a complexity and texture that truly cool climate
chardonnay fruit can carry so well. Carefully hand harvested from Delamere's oldest
vines in the cool of the morning, the fruit is pressed directly into Burgundian
coopered French oak and allowed to undergo natural wild fermentation. Partial
malolactic fermentation and months of lees stirring are an integral part of crafting
this wine.
The 2011 is every bit as good as previous vintages and with bottle development will
become an outstanding chardonnay. The wine is taut and elegant now but already
shows signs of the texture and complexity that will develop over the coming months.
Showing citrus blossom and notes of hazelnut on the nose. An elegant, creamy palate
with fresh quince and white nectarine characters, along with a lemony acidity giving
great length. This is a unique wine that matches well to a variety of dishes and will
reward careful cellaring for up to 7 years.
Viticulture
Close-planted vines at 7000/ha on own roots, low trellis, non-irrigated, cane pruned
vertical shoot position. The chardonnay is Penfolds 58 and I10V1 clones. Cropping
levels in 2011 were 6 tonnes/ha.
Vintage Conditions
The 2011 season was notoriously challenging in Tasmania, with high rainfall and
warm weather leading to high risk of disease. However, where fastidious vineyard
management was applied wonderful wines have resulted due to low crop levels.