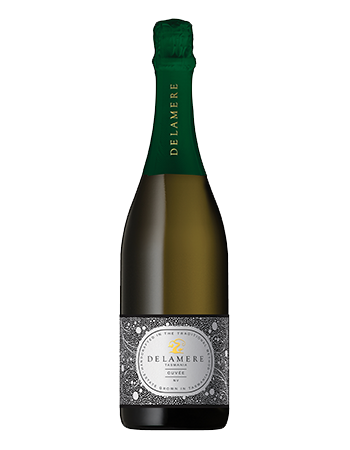 V I N T A G E C O N D I T I O N S
The 2021 season here at Delamere will go down on record as so close to perfection it will be hard to beat. Overall, it was Tasmania's second warmest season on record (an advantage straight out of the blocks in a cold, marginal-climate wine region like Pipers River!). In contrast to record warm temperatures in December and January, February saw a cool change. This allowed fantastic retention of acidity in the fruit. We had below average rainfall throughout the season, which meant disease pressure was non-existent, allowing us to take our time as the fruit ripened, and harvest only as it reached perfection. Crop levels were just below forecast giving us excellent depth of flavour. Coupled with near-perfect balance and racy acidity, a winemaker couldn't ask for better material. Making wines from this year's fruit has been an absolute privilege.
W I N E M A K I N G
As with all of our sparkling wines, the Cuvée NV is made by the traditional method with around two years lees time. The assemblage was focused on retaining the fresh fruit characteristics whilst balancing the autolytic and more mature flavours.
The varietal blend is 68% Chardonnay and 32% Pinot Noir, with 27% reserve wine blended into the 2021 base. The reserve blend consists of 12% 2018, 8% 2019, 4% 2020 and 2% 2017.
Tirage Date: November 2021, Disgorgment date 22/05/2022
T A S T I N G N O T E S
This wine showcases many of the elements that make a non-vintage sparkling wine so appealing. The maturity of the older wine brings a richness and depth, which combines beautifully with the fresh apple, citrus and stone fruit flavours of the younger wines. The Cuvée NV has flavours of fresh bread, nuts and leatherwood honey and a lingering and complex finish. Too good to save just for special occasions!