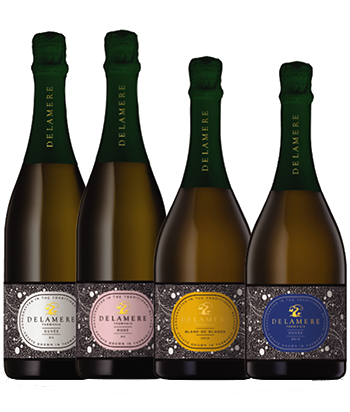 Bubbles, bubbles and more bubbles!
Celebrate the festive season with a selection of delectable Delamere Sparkling Wines, ideal for entertaining or gifting.
This pack contains:
2 x Non Vintage Cuvée
2 x Non Vintage Sparkling Rose
1 x Blanc de Blancs
1 x Vintage Cuvée
The NV Sparkling Cuvée is made by the traditional method with around two years on lees time. The assemblage was focused on retaining the fresh fruit characteristics whilst balancing the autolytic and more mature flavours. This wine showcases many of the elements that make a non-vintage sparkling wine so appealing. The maturity of the older wine brings a richness and depth, which combines beautifully with the fresh apple, citrus and stone fruit flavours of the younger wines. The Cuvée NV has flavours of fresh bread, nuts and leatherwood honey and a lingering and complex finish. Too good to save just for special occasions!
A complex sparkling wine with characteristics of ripe stone fruit and green apples plus, a hint of richness and maturity.
(60% Pinot Noir - 40% Chardonnay)
The NV Sparkling Rosé is 100% hand harvested Pinot Noir from our vineyard and made in the traditional method with around two years on lees time. The purity of the Pinot Noir fruit, crisp acidity and notes of maturity are the goal when blending this wine. Showing true mature Sparkling Rosé characters, it has a pale salmon colour and an aroma of fresh strawberry and musk, complexed by hints of lanolin and toast. The flavoursome palate boasts unctuous red berry fruits, complemented by brioche characters, and is fine but with firm, savoury tannins. It has persistent flavours finishing with crisp natural acid.

Generous strawberry and musk aromas, sweet berry flavours on the palate with a clean and refreshing finish.
(100% Pinot Noir)
The Blanc de Blancs offers mature and sophisticated sparkling wine with apple, lemon and notes of baking spices that flow into an extended rich and complex finish.
The grapes for our Blanc de Blancs were whole bunch pressed, wild fermented followed by full malo and tiraging in October 2014. 5 years aging on lees and a low dosage of less than 2 grams allows the voluptuous flavours of the fruit to shine through. All our sparkling wines are made in the traditional method with the Blanc de Blanc seeing a minimum of 5 years ageing in total before we will release it.
The 2015 Vintage Cuvée is an elegant wine representing some excellent characteristics of the vintage, created through gentle whole bunch pressing of the fruit and blended whilst still juice. This year allowed us to use a large proportion of solids during fermentation to give extra depth and complexity. Our sparkling wines are produced traditionally with the 2015 spending three years on lees before release.
Racy and complex; this wine opens with crisp citrus notes and develops through the palate with stone fruits and a fine line of minerality. A complex and lingering finish with delicate rose florals on the nose.
(60% Pinot Noir 40% Chardonnay)