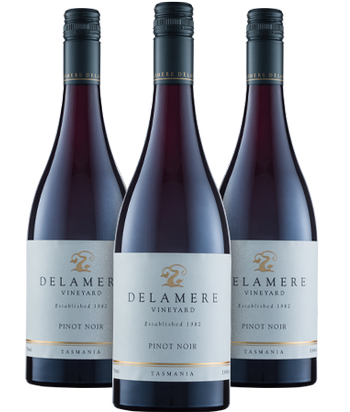 Exclusive to Wine Club Members, three defining vintages...
20% discount and free shipping will be applied at checkout.
Vintage Conditions
The 2019 season here at Delamere will go down on record as so close to perfection it will be hard to beat. Overall it was Tasmania's second warmest season on record (an advantage straight out of the blocks in a cold, marginal-climate wine region like Pipers River!). In contrast to record warm temperatures in December and January, February saw a cool change. This allowed fantastic retention of acidity in the fruit. We had below average rainfall throughout the season, which meant disease pressure was non-existent, allowing us to take our time as the fruit ripened, and harvest only as it reached perfection. Crop levels were just below forecast giving us excellent depth of flavour. Coupled with near-perfect balance and racy acidity, a winemaker couldn't ask for better material. Making wines from this year's fruit has been an absolute privilege.
The 2016 vintage is characterized by very dry conditions and generally warm temperatures. Budburst commenced early in 2016 with strong canopy growth by January. The result has been wines that have developed ripe flavours at moderate potential alcohol with medium to high natural acidity, providing the backbone, elegance and finesse that defines the Delamere.
In 2011 Northern Tasmania had average winter rainfall, increasing to above average in late spring, setting the scene for excellent growth as the weather warmed. Here at Delamere we had a slightly cooler season leaving the wines with crisp acidity and a taut structure that will see them age very gracefully.
Winemaking
A consistent approach has been taken to the techniques applied to each vintage of wine. A small percentage of whole bunches in most of the Estate Pinot Noir parcels is included, undergoing fermentation with wild yeast in open top vessels. The wines are pressed off after two to three weeks and filled to Burgundian oak to mature. A rich and full mouth-feel results from gentle handling and spending time on lees. Year on year the Estate Pinot Noir is an expression of the season and the maturing vines that yield the quality of fruit we take pride in working with.
Tasting Notes (at time of release)
The 2019 Delamere Pinot Noir has a beautiful garnet red colour. The aroma of early summer cherries and violets has a seductive complexity, with leafy hints, and sweet spices of nutmeg and star anise. The palate has a long elegant sweetness which is framed perfectly by firm, mouth-coating tannins. The lasting, flinty acidity finished the wine beautifully.
The 2016 is quintessentially Delamere, with a lifted earthy aroma over elegant red fruits. The palate is a complex mixture of ripe raspberry and red plums framed with firm savoury tannins.
The 2011 displays tart cherries, red plums, strawberries, autumn leaves and earthiness combine in this elegant and well structured Pinot Noir. The rich earthiness of this wine will continue to develop as the wine matures whilst the crisp acidity keeps things fresh on the palate.