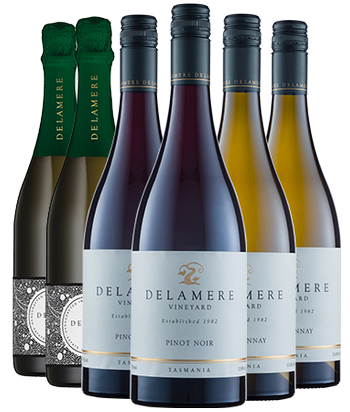 2 x 2019 Estate Chardonnay
Opening with elegant citrus blossom, hints of stone fruit. The key to this wine is its ability to balance the taut acidity, white nectarine and citrus fruits, judicious use of oak and the savoury lees influence to create a complex and interesting wine that will age gracefully over the next 8-10 years.
2 x 2019 Estate Pinot Noir
The 2019 Delamere Pinot Noir has a beautiful garnet red colour. The aroma of early summer cherries and violets has a seductive complexity, with leafy hints, and sweet spices of nutmeg and star anise. The palate has a long elegant sweetness which is framed perfectly by firm, mouth-coating tannins. The lasting, flinty acidity finished the wine beautifully.
2 x Non Vintage Cuvée
This wine showcases many of the elements that make a non-vintage sparkling wine so appealing. The maturity of the older wine brings a richness and depth, which combines beautifully with the fresh apple, citrus and stone fruit flavours of the younger wines. The Cuvée NV has flavours of fresh bread, nuts and leatherwood honey and a lingering and complex finish. Too good to save just for special occasions!