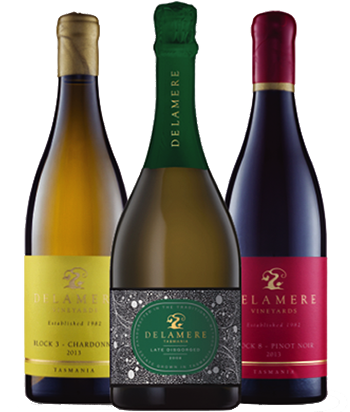 When only the best will do. A gift 10 years in the making! This pack of our Premium wines is the ultimate gift for someone special (or yourself – you deserve it!)
This pack contains:
1 x Block 3 Chardonnay
1 x Block 8 Pinot Noir
1 x Late Disgorged Sparkling
Block 3 Chardonnay
This is a classic cool climate Chardonnay with the finesse, elegance and depth of flavour to age for 10 or more years, thus is the aim of the 'Block Wine' project. Beautifully light, yet with the complexity and length that comes from this wine being made from some of our oldest vines.
Every aspect of making this wine seeks to allow our unique vineyard characteristics to shine through, developing a complexity and texture that truly cool climate chardonnay fruit can carry so well. Carefully hand harvested from Delamere's oldest vines in the cool of the morning, the fruit is whole bunch pressed in our small press to tank, settled and racked with light fluffy solids to oak. Slow fermentation with indigenous yeast in 100% new oak. Wild fermentation continues until dry then MLF allowed to start Stirring of yeast lees allows the development of mouth-feel. Matured in oak for 12 months. Bottled with minimal filtration under cork and wax seal. Allowed to mature in bottle for a further 12 months prior to release to allow the wine to settle.
Block 8 Pinot Noir
Selected from one the oldest block of Pinot and Chardonnay on the Delamere Vineyard Site: Block 8, now over 35 years old, and the vine-age naturally limits the crop produced, leading to superior depth of flavour in the fruit. Fruit hand-picked is delivered directly to the winery where it is immediately destemmed to open top stainless steel fermented. 30% whole bunches were included in 2015, a warmer year, to increase flavour complexity and build firmer tannins The fruit is soaked at ambient temperature (15 degrees celcius) for 5 days before a natural fermentation commences. Gentle hand plunging is performed every 12 hours for gentle tannin extraction, and the wine was pressed out after 14 days. The wine was transferred to 2 of our best quality French oak, a new barrel and one 1-year old, where the wine matured for 10 months before bottling.
The delicate but highly complex aroma of this wine tells the story of the unique quality of the Block 8 site and age of the vines. Strawberry and cherry fruit dominates the nose with earth, forest floor and hints of star anise spice. The palate is taut with firm sinewy tannins, a complexity of length and flavour is evidence of its potential to age for 20 years.
Late Disgorged Blanc de Blancs
This stunning traditional method sparkling has been carefully aged for 10 years on lees. The exquisite layers of complexity and texture compliment the classical Pipers River Chardonnay characteristics of citrus, slate and oyster shell. This wine speaks of the place it was grown, crafted and matured.
The grapes for our Late Disgorged Blanc de Blancs were whole bunch pressed, wild fermented followed by absolutely no malolactic fermentation to retain the striking acidity of the Chardonnay. 10 years aging on lees and a low dosage of less than 2 grams allows the voluptuous flavours of the fruit to shine through and the clear acid backbone to be a focal point of this wine. All of our sparkling wines are made in the traditional method with the Late Disgorged being one of two of our new Prestige Cuvée range.