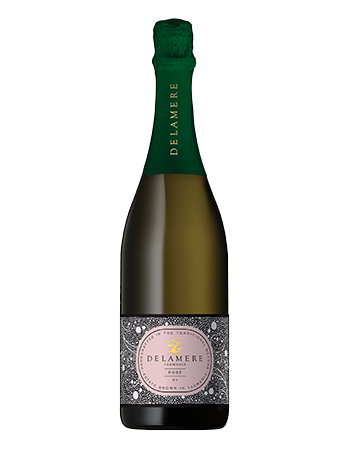 Vintage Conditions
The cool maritime climate of the Pipers River region and the gentle slopes of the Delamere Vineyard make it an ideal site for exceptional sparkling wine production. This wine is the combination of several years production of fruit from our vineyard. The long cool ripening season delivers a low variation between maximum and minimum temperatures, high sunshine hours and moderate to high humidity. These factors combine to allow the grapes to ripen slowly, preserving maximum concentration of delicate aromatic compounds.
Winemaking
The Rosé NV is 100% hand harvested Pinot Noir from our vineyard and made in the traditional method with around two years lees time. This wine is a 2016 base with 21% reserve over blended. The reserve component is 2014 parcel that was aged in bottle under low gas pressure as a trial. The purity of the Pinot Noir fruit, crisp acidity and notes of maturity are the goal when blending this wine.
Tasting Notes
Showing true mature Sparkling Rosé characters, it has a pale salmon colour and an aroma of fresh strawberry and musk, complexed by hints of lanolin and toast. But there is an additional layer of complexity from the bottle-aged reserve in this delicious 2016 blend.
Food matches
A perfect match for freshly shaved prosciutto, figs and Parmesan. Soft white cheeses, oysters, hot smoked salmon or a roast capsicum salad would all be fine accompaniments.