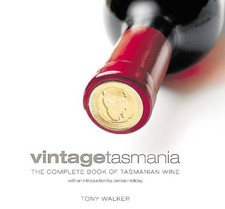 AN INTRODUCTION BY JAMES HALLIDAY
James Halliday, Australia's pre-eminent wine writer and commentator, has been a champion of Tasmanian wine for more than 30 years. Since 1991, he has been Chairman of Judges for the Tasmanian Wine Show, so is in a unique position to provide an overview of the industry's development, and an insight into its future.
THE HISTORY OF TASMANIAN WINE
The story of the pioneers who revived viticulture in Tasmania after almost a century of inactivity. Based on a two year Masters degree study by author Tony Walker, these chapters document the story, from the trials and triumphs of the early growers, to the success and international recognition achieved today.
TASMANIAN WINE TODAY
Everything the wine lover needs to know about Tasmanian wine- an illustrated guide to the Wine Routes- more than 50 Tasmanian vineyards and wineries that welcome visitors- plus a regional guide to every vineyard and to every wine produced in the state.