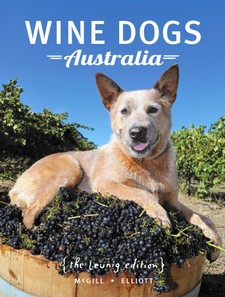 Anyone who visits a winery can't help but notice the omnipresent dog – as much a part of the place as the winemaker or the cellarhand.
This fifth edition of Wine Dogs Australia is a large-format book and features over 130 wineries from around the country with stunning portraits of their loyal pooches. Including Delamere.
Along the way, the mutts and purebreds are interspersed with artwork by legendary Australian artist Michael Leunig.
Find out which dog is the Tasmanian sausage-eating champion, discover the identity of the wine industry's infamous handbag thief, and we expose the Hunter Valley chook terminator.
Wine Dogs Australia 5 features the 7 dogs that often complete a hard days work at Delamere Vineyard.